Complete your company profile
Your company profile page is your store front. This is where users will see your company information such as location, opening hours, contact information, social media links and the products you have made viewable to the public.
Banner Image – Click on the image area to add a banner image to your public profile page. We recommend images 1200px wide by 400px height.
Company Logo – Click on the image area to add your company logo. Your logo should be 300px wide x 100px height.
Website – This will already have been set when you created your account but you can modilfy it in the About tab (see below section).
Company Overview – Provide a description of your company (similar to an About Us section of a company website), your public email and phone number as well as any social media and review website links you have.
Location – This is the location of your company headquarters as set in the About tab (see below section).
Website and Social Links – These can be set in the About tab (see below section) and will be publicly visible on you Profile page.
Language – Your primary language.
Time zone – The time zone of your primary contact.
Booking Systems – Which booking systems / reservation systems are your products available through?
Covid-19 Safety Measures – What measures are in place to protect the public from exposure to Covid-19 at your operation.
Check or uncheck the boxes to display your profile publicly and display reviews on your profile. Click on Update Account to finish.
Next, you should update your Operating Info, especially as we come out of the pandemic, let the industry know if you are operating or when you intend to resume.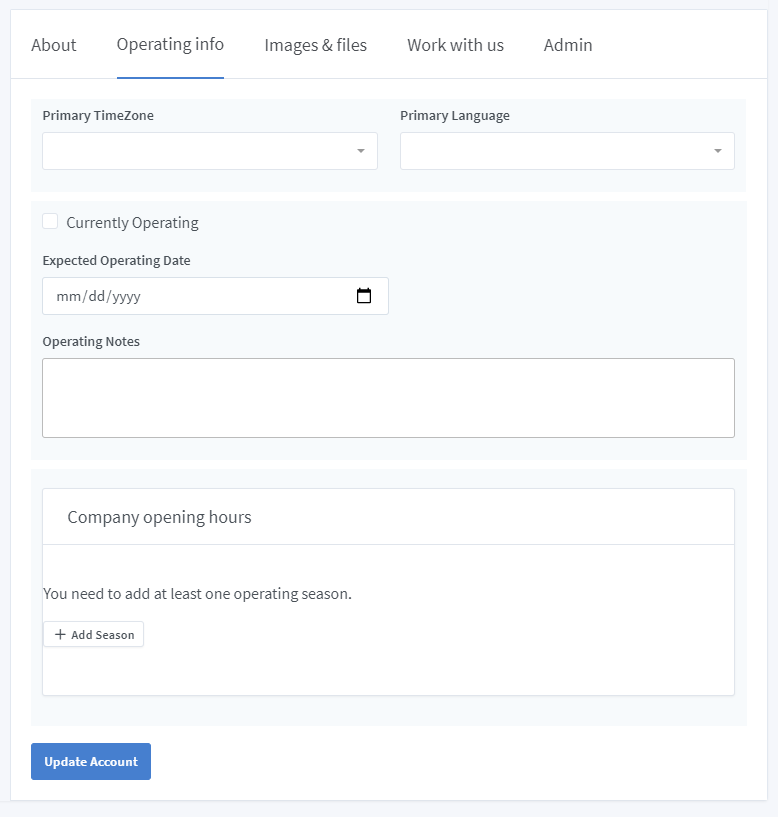 The Images and Files tab is where you can store documents to later share with Resellers such as Certificates of Insurance, Reseller agreements etc.
The work with us tab is where you can provide information on how to partner with your company and detail the steps to take to get the process going.